Welcome to Ceiling-Fans-n-More, the premier site for all ceiling fan information on the web. Here we offer information on a variety of ceiling fan brands, comparisons, and buying guides. We deal with residential ceiling fans, industrial ceiling fans, agricultural ceiling fans, and HVLS ceiling fans. We have technical information, troubleshooting guides, repair information, installation instructions, and parts information.
Please note: We have recently updated the list of ceiling fan manufacturers. In the drop down menu at the top (that says Ceiling Fan Manufacturers), not all manufacturers that we list are available now in that menu. We had to trim the menu down, so that it would fit properly onto the page – there were simply too many manufacturers in that list! With that being said, please click on the actual page for ceiling fan manufacturers to see our entire list. If there is a manufacturer you cannot find on the site (or brand of ceiling fan), please let us know and we'll take a look for the make and model of fan that you require, and work on getting it posted to Ceiling Fans 'N More!
Hampton Bay Ceiling Fans
Ceiling Fans 'N More has been a long time supporter of Hampton Bay Ceiling Fans. Moreover, we have a wealth of troubleshooting information for Hampton Bay Ceiling Fans as well. For instance – are you looking for a replacement pull chain? What about some replacement blades for your Hampton Bay fan. We have a number of parts available. We also have answers to many frequently asked questions related to Hampton Bay, such as – what are the Hampton Bay support phone numbers? Where can I find a replacement Hampton Bay part? My Hampton Bay ceiling fan remote is not working, what should I do? Where can I find a replacement Hampton Bay ceiling fan remote? These questions answered and many others. You also have the ability to ask a question as well, and let it be answered by others.
Kichler Ceiling Fans
We have a selection of Kichler Ceiling Fans for review or purchase as well. You can read reviews from other site visitors about Kichler Ceiling Fans, and see what interests you. We are constantly adding new Kichler Ceiling Fans to the website as well, so be sure to check back often. Another thing people often look for are replacement Kichler remote controls. We have those as well, to help you replace a missing remote for your Kichler fan if you are missing one. If there is something else related to Kichler that you require, please let us know by filling the contact us page, or posting on our forums.
General Rule of Thumb – Choosing the Right Fan based on Room Size
If you're looking to scope out a ceiling fan for a particular room, keep this size chart in mind. If the room is 90 square feet or less, a fan with 42″ blades will be the right size. A room with 90-100 square feet, try a 52″ or 54″ ceiling fan. For a room with over 150 square feet in size, try a fan with a 70″ blade sweep. Or, for a larger room of this size, you can also go with two 54″ fans instead. It depends on what you are trying to achieve in the particular room you are looking at. Is there a certain style or certain decor you would like to portray, or keep a style of decor consistent?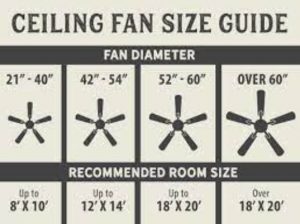 Technical support phone numbers for ceiling fan manufacturers
Are you looking for a phone number for technical support, or customer service from a ceiling fan manufacturer? Finding the phone number online that you are looking for can sometimes be a challenging and potentially frustrating task. In many places on this website, we endeavour to provide you with the technical support phone number you need to obtain help. While we may not the the manufacturer, we can often help point you in the right direction. Some of the ceiling fan brands you find on the market will be part of a particular retail chain. Sometimes, you have to reach out to that particular retail chain in order to obtain support. We do our best to help you, but if we have to point you in a certain direction, we'll send you to the right place with the right details to make an education decision as to what to do next.
Hampton Bay & Casablanca Ceiling Fans
Some of the brands we document include Hampton Bay Ceiling Fans, Harbor Breeze Ceiling Fans, Kichler Ceiling Fans, Casablanca Ceiling Fans and Hunter Ceiling Fans. For information on older and dis continued brands. We have very informative documents about industrial ceiling fans, hugger ceiling fans, discount ceiling fans, ceiling fan decor, and many other topics. You can find technical information about ceiling fan remotes, ceiling fan parts, ceiling fan blade balancing, ceiling fan oiling, ceiling fan flywheel replacement instructions, and much much more. You won't find these resources anywhere else on the web!
Occasionally our Internet staff discovers a special on certain model ceiling fans sold online. These specials are available for purchase through our Ceiling Fan Store, and through the product links on the individual brand reports. Coming soon, we also plan to offer our own specials on certain makes and models of fans recommended by our experts!
Our goal as a site is to inform and help you. We're not out to push certain products on you or to promote certain brands. We have the most knowledgeable and experienced ceiling fan experts available on the Internet. From time to time our editors may offer recommendations or suggestions, these are based solely on their knowledge and experience, not on any commercial arrangements. So you can be assured any information you obtain from this site is the most honest and informed you will find on the web.
If this site has helped you, please contact us and let us know! Note the testimonials from many other grateful visitors.
If you have any questions, feel free to post on our forums or email us. Our ceiling repair experts will reply. It is a good idea to search the site thoroughly before you ask, we have so much information it is likely your question has already been answered! If you are a webmaster with a question about linking, please contact our webmaster.
Residential & Commercial Outdoor Ceiling Fans
An outdoor ceiling fan is useful in a porch or greenhouse setting. There is a distinction between indoor and outdoor fans, just like there is a distinction between residential and commercial fans. Outdoor fans can be used for backyards, frontyards – even sometimes a more moisture intensive environment, like greenhouses, sheds and workshops. A commercial fan will move a lot more air then then a residential fan. Residential fans are usually used in homes. You could have a larger workshop or greenhouse though where you're considering using a commercial fan. Commercial fans are larger – usually having blade spans of 44″ or bigger. Sometimes you will see larger commercial fans in gymnasiums and schools, where they may be as large as 50″ or 54″ blade spans.
UL Listed fans are useful in environments where there is much moisture. This happens in warmer climates like Cuba, Jamaica, etc. In warm tropical climates, moisture can accumulate on the fan or drip from the fan, or other places onto the fan. Also in an outdoor climate, you can have rain which can damage the fan. However, if you have a UL wet listed fan, it will not take damage from the rain or the water. It will last a lot longer in an environment where it is very warm and there is moisture due to condensation or other.
Ceiling Fan Frequently Asked Questions
What is the purpose of a ceiling fan?
How do ceiling fans lower the temperature?
How do ceiling fans help heat in the winter?
How can the same fan help both in the winter AND summer?
What rooms should have ceiling fans installed?
What size fan is needed for a particular room?
My ceiling is lower, do I need a 'hugger' fan?
My ceiling is higher, how long of a downrod do I need?
What sort of control options are available?
How many blades is best?
What are the quality differences between fans on the market?
What about American Made fans? Are they still available, and are they significantly better than imports?
What makes a ceiling fan Energy Efficient? How do I consider this when choosing a fan?
Fan Operation: What speed and direction settings should be used?
Is there any purpose to running the fan constantly even when people are not present, or is this a waste of energy?
How effective are ceiling fans with heaters built in?
What is the use for a fan mounted outside, such as on a porch? What sort of fan is recommended?
Ceiling fan lights– what options are available?
I am replacing a large light fixture, and most fan lights aren't bright enough. What fan or fan light kit do I buy?