Emerson has been making quality fans since the late 1800s and continues to make quality fans today. Some of their earliest models still influence current fans. The Emerson "Fern Leaf" design of the early 20th Century is replicated by the Casablanca Victorian and many other ornate ceiling fan models. In the 1970s when ceiling fans returned to popularity Emerson produced a motor that set the quality standard for all other manufacturers. In fact, Emerson has supplied the motors for most fans made in America (including Casablanca) since that time. Emerson still manufactures fans with this same motor design, known as the "K55" motor.
Emerson Ceiling Fan Parts
Below we have a listing of the most common and sought after Emerson ceiling fan parts. This can be as simple as something like a pullchain, all the way up to a complete motor replacement kit. Remotes and receivers are a common problem no matter which ceiling fan you have – whether it's an Emerson or other.
Here are the most commonly sought after and replaced Emerson parts:
Receiver
Downrod
Emerson replacement remote
Replacement motor kit
Emerson Replacement Receiver
A receiver is necessary when you have exhausted all other forms of remote troubleshooting, and not been able to come to a conclusion on how to resolve the issue. You have tried setting dipswitches. You have tried replacing the batteries in the remote. You have replaced the remote. You have gone through troubleshooting of how to program the remote with the fan (this usually will come as a user's guide with the remote). In some cases the new remote will have dipswitches, in other some programming might be involved.
If you have tried everything else, and still cannot communicate with the fan – but know the motor is working – then you can try replacing the receiver.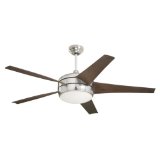 Emerson Replacement Motor Kit
A replacement motor would be needed if the motor is burnt out. How can you determine if your motor is burnt out? Actually, often times when you feel that you may have a problem with the motor, it is actually a capacitor that is causing the issue. If you feel you have a Emerson motor problem,  it could actually be the capacitor. If the fan is running slow even though you have it cranked on the highest speed, that could be a capacitor issue. If the fan is humming but the blades are not spinning, this could be related to the capacitor.
Emerson now has a full line of ceiling fans including high-end "showroom" models with said K55, elegant designs (including those by Kichler) and inexpensive, simple models for new construction. Their "Premier" line fans are not exceeded in quality by any other fans on the market. They also offer models with aerodynamically designed high-efficiency blades, including an industrial model.
Style is subjective but you can not go wrong with Emerson quality. The K55 motor is, quite simply, the best motor money can buy, and in many cases the motor makes the fan. The other components are also comparable in quality, including handmade multi-ply blades and cast zinc housings. If an Emerson fan is within your budget it is a sound investment.