The Craftmade SI56BA Silo Ceiling Fan has exceptional air movement, unique contemporary styling, and lasting quality. This fan features five custom black blades and a beautiful brushed aluminum finish while being paired with an integrated CFL down light.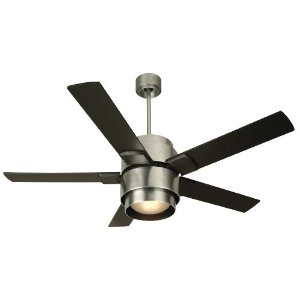 The above ceiling fans are designs of Craftmade Ceiling Fans. You can also view a complete listing of all Craftmade Ceiling Fans. If there is a certain ceiling fan replacement part or accessory that you cannot find, feel free to request it on the contact us page. We will do our best to get what you're looking for added to our website!
We also have a promising Craftmade Ceiling Fans FAQ section to help answer questions you may have on your mind. Some questions users ask repeatedly are…
How do I install my ceiling fan?
I need a replacement glass globe for my ceiling fan, where can I find one?
My ceiling fan remote control is not working, what should I do?
I need to buy a new remote, do you have this remote part number?
These are all important questions we get asked all the time. For each question, look for the corresponding page on the right menu. So for remote not working, look for a section on remotes on the right side.
For replacement glass globes, look on the right side for the associated designer brand of fan that you have. For wiring or installation help, again look on the right side menu under technical help and repair.