This Baseball Fan Ceiling Fan (model 23252) from Hunter Fan is a perfect fit for the true baseball enthusiast. The die-cast catcher's mitt housing, home plate ceiling applique and baseball globe light kit set this fan apart from all others. Designed to be easily installed, it features Hunter's WhisperWind motor for years of quiet reliability. It comes with four pine or aluminum baseball bat-shape blades.
The light fixture uses one 19-watt compact fluorescent bulb (included) and comes with a home plate ceiling applique. This fan can be installed without the light kit if desired. Hunter's patented anti-vibration technology featuring the unique triangular hanger ball system reduces torque for wobble free performance.
Did you find the ceiling fan that you are looking for? Ceiling Fans 'N More hopes that we have been able to provide you assistance and support with Hunter Ceiling Fans.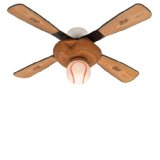 If you need assistance with troubleshooting, finding a replacement part, or just general support, please do read our FAQ sections. These are located further down the right side menu under 'Ceiling Fan Repair'. One benefit of using our website is being able to read reviews from other site visitors. If there is a certain ceiling fan that you are interested in, reading reviews from others will paint a plain picture for you whether that is a good fan or not. If there are many positive reviews it obviously is better than a lot of negative ones.
Ceiling fans have many functions that you will find on the website, ranging from simply moving air inside the home, to cooling industrial areas or even your garage. If you have found this information about Hunter Ceiling Fans helpful, please do post a review to let others know. How did your experience go with this particular fan? Let site visitors know what to look out for, if necessary.
Hunter Baseball Ceiling Fan Specifications
Part
23252
Color
Leather
Style
Traditional
Finish
Brown
Material
Glass
Power Source
AC
Voltage
120 volts
Wattage
52 Watts
Airflow
3000 CFM
Bulb Type
Compact Fluorescent Light (CFL)
Features
With Lights
Usage
Warranty
Dimensions